Available on iOS and Android
---
BattleFit The Social Workout!
BattleFit is great for fitness, weight loss, training, getting active, getting motivated and the best part about it, its social. Workout with your friends, family or any BattleFit user without having to be in the same town, city, country or even timezone.
---
BattleFit Features
Social Workout
Challenge your friends at any workout and share via Facebook
Improve your Personal Bests
Battle yourself to improve your personal best for any workout.
Track your progress
Track your progress and compare against others.
Create Workouts
Don't like our workouts? Create your own.
Leaderboard
See how you stack up against your friends, and the world.
FitPoints
Earn FitPoints and climb your way up the BattleFit Leaderboard
Level-Up
Everybody starts as a Couch Potato! Win workouts to level up quickly.
Motivation
Workout with your friends and help motivate each other and push the limits.
Training Centre
Unsure what to train? Need a blueprint? We have a bunch of training programs that will help you achieve your fitness goals
Get Notified
Receive notifications to keep you in the loop with your friends and also keep you on task with what you should be doing.
How-To Videos
All our exercises have how-to videos to help you perform a movement with the correct form and technique.
---
FitPoints & Achievements
For all fitness activity, you earn FitPoints to help you climb higher up on the BattleFit Leaderboards. Earn more FitPoints by creating multi-player battles, or jump on our Training Programs to earn even more FitPoints.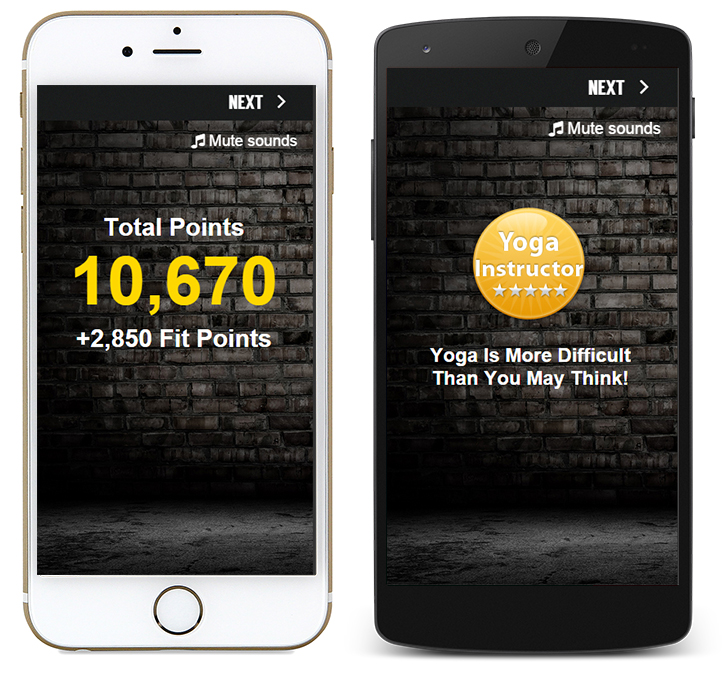 Popular Workouts
6 Pack

Workout Description

Perform as many full range sit-ups as possible in 1 minute

Exercises

Big Boys Club

Workout Description

Add all 3 Lifts together in Kilograms. You have a 10-minute time limit to finish all lifts. Highest total of Kilograms wins.

Exercises

1 RM Bench-Press
1 RM Back Squat
1 RM Deadlift

Concept 2

Workout Description

How long does it take you to row 1500m on a rowing machine? If possible, use a concept 2 rower.

Exercises

Cindy

Workout Description

Perform as many rounds as possible in 20 minutes

Exercises

5 Pull-ups
10 Push-ups
15 Air Squats

Karen

Workout Description

How long does it take you to perform 150 Wall balls?

Exercises

Fran

Workout Description

Fran is a benchmark crossfit workout. It is much harder than you would expect. The best in the world can do this workout in under 2 minutes. Give it a go!

Exercises

21 Thrusters, 21 Pull-ups
15 Thrusters, 15 Pull-ups
9 Thrusters, 9 Pull-ups

Raiders Blitz

Workout Description

Using a treadmill, How long does it take for you to complete:

Exercises

1km Run, 10 Burpees, 10 Push-ups
800m Run, 12 Burpees, 12 Push-ups
600m Run, 15 Burpees, 15 Push-ups
500m Run, 18 Burpees, 18 Push-ups
400m Run, 20 Burpees, 20 Push-ups
300m Run

100 Burpees

Workout Description

This workout is as painful as you make it. Go hard too fast out the gate will fatigue you and the pain will set in!

Exercises

Perform 100 Burpees as fast as possible.
BattleFit Training Centre
Introducing Training Centre. Need a blueprint in the gym? Want to take the thought process out of working out? BattleFit Training Centre is a Personal Trainer in your hand. BattleFit has fun and challenging training programs that you can join which help you reach your fitness goals no matter what they are. Whether you want to tone up, lose fat, get bigger, get stronger or just want something to keep you on task, BTC has a training program for you.

Simply join a program and BattleFit will notify you everyday with what you should be doing, when you should be doing it! It's that simple.
Contact Us
Get in touch
Feel free to contact us on Facebook, Twitter or via our Contact form. We love to hear your feedback, whether it be how we can improve the app, or if there are any bugs/issues/glitches you have come across, or if you just want to drop us a line.
---